Wednesday, September 22, 2010
Posted by Lee Yuan Sheng in "Digital Home Hardware & Accessories" @ 09:37 AM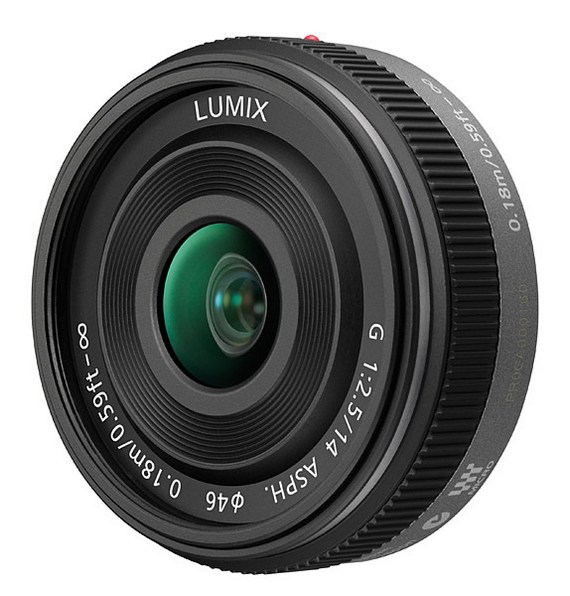 Along with the Lumix GH2, Panasonic also announced three lenses: 100-300mm f/4-5.6, a 14mm f/2.5 (pictured above), and the 3D lens mentioned a few months back. Expect all three to hit the stores in November.
The most interesting item to photographers would be the 14/2.5, however, it's left me feeling a bit unimpressed. While small, 14mm isn't quite the gap that needs to be filled in the Micro Four Thirds lineup. At 14mm it's fairly close to the Olympus 17mm, and something wider would be more enticing. A 12/2.8 would satisfy a broad range of people, though I would really love a 10/2.8 Please Panasonic, pretty please? The lens will go on sale for US$400.
The 100-300/4-5.6 comes out shortly after Olympus announced the 75-300/4.8-6.7 (though both this and the 14mm have been on the Panasonic roadmap for a while), and personally I think this is the more sensible option. While it is slightly bigger (about half an inch longer and a few mm wider), it is half a stop faster, and at US$600, is cheaper by a third of the Olympus. If telephoto reach is required, a 600/5.6 equivalent in a small lens like this isn't a bad deal.
The one that'll attract the most attention (but unfathomable to me) is the 3D lens. With little separation, and a maximum aperture of f/12 (!), um, well, this should be a toy to most. At US$250 it's certainly not too expensive a toy... Pictures of the other two after the break.
---