Wednesday, January 5, 2011
Posted by Lee Yuan Sheng in "Digital Home Hardware & Accessories" @ 06:35 AM
Here comes the rest of the interesting cameras. First up is the cheap superzooms.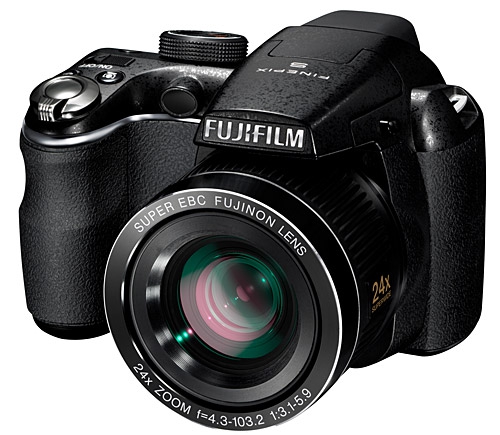 The Finepix S2950, S3200, and S4000 are all pretty similar cameras. All feature the same 14 megapixel CCD, sensor-shift image stabilisation, full manual controls, 3" LCD screens with 200k dot EVFs, 720p videos, and AA batteries for the power source. The main difference is in the lens; the S2950 has a 18x 28-504mm equivalent f/3.1-5.6 lens, the S3200 has a 24x 24-576mm equivalent f/3.1-5.9 lens (and adds face recognition), and the S4000 has a 30x 24-720mm equivalent f/3.1-5.9 lens, and has a 3" HVGA LCD instead of a QVGA screen. The prices are about US$230, US$250 and US$280 respectively, and availability is slated in March.
Fujifilm Finepix S2950/S3200/S4000
Next up is Fujifilm's rugged entries: the Finepix XP20 and XP30. Again, both are similar cameras, with 14 megapixel CCDs, 5x 28-140mm equivalent f/3.9-4.9 zoom lenses, sensor-shift image stabilisation, 2.7" QVGA LCDs, bodies that are waterproof to 16.5 feet, shockproof to 5 feet, and the ability to survive -10 C temperatures. The XP30 also adds a GPS. The former will cost about US$200, the latter US$240, and again, are expected in March. Photo of the XP30 after the break.
---